To celebrate Professional Engineers Day, today, August 5, 2020 we're sharing why we became professional engineers.

Tell us why you decided to become a Professional Engineer
David A. Vilbig, PE, RPLS – As a kid I was always interested in how things worked. I often broke toys to see how they worked. I knew my Dad, an electrical engineer, would be able to fix anything. I chose Civil Engineering because of my experience working for my grandfather's excavation and dirt moving company.
Barbara J. Vilbig, PE – With an affinity towards math, I was more interested in hands on or practical applications. My father, an electrical engineer in the electrical contracting business influenced my decision. I never had a teacher or counselor guide me in the direction of engineering. I chose Civil Engineering because of my love for water. Growing up in the panhandle of Texas, rain and water were fascinating and scarce commodities.
Jennifer M. Vilbig, PE – I always loved solving problems. With parents (and grandparents) that are engineers, even though it was challenging in school, I knew that I could do it because they had done it, too. I picked civil engineering because I wanted to have a visible impact on public infrastructure.
Thomas L. Vilbig, PE – I always enjoyed building and creating things even from a young age.  Legos were my favorite toy as a child and I loved construction equipment.  I still get excited to see the projects I helped design go into construction and get completed.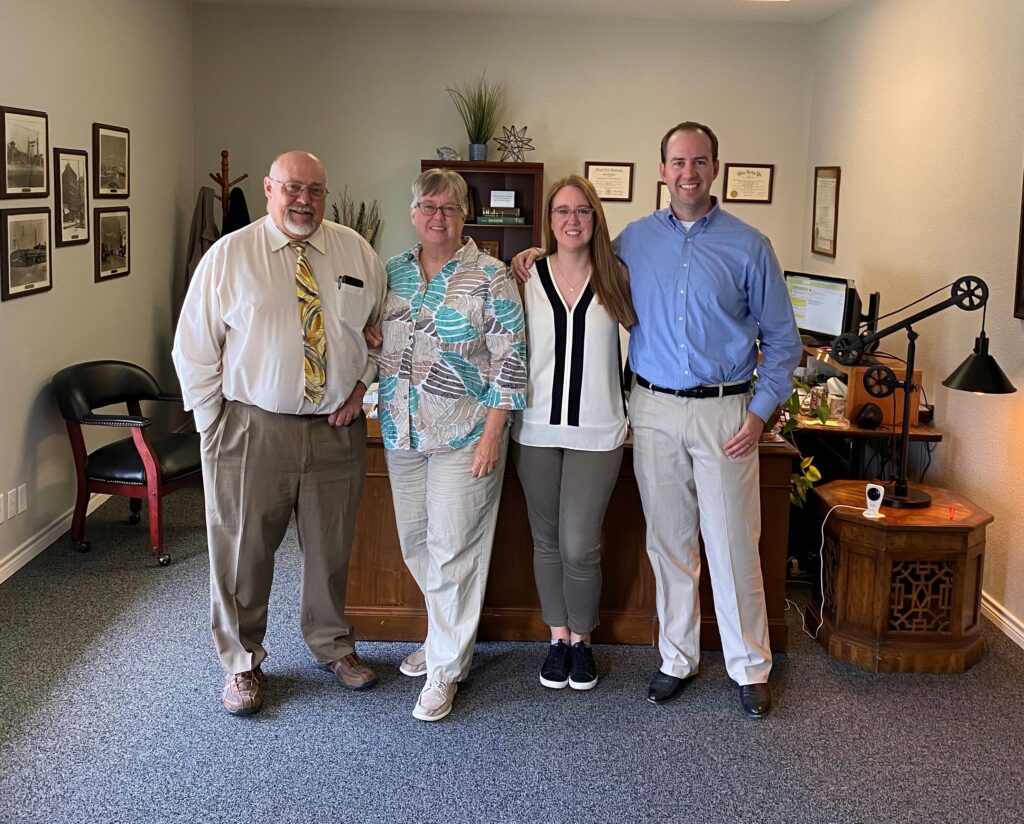 "PE licensure is the engineering profession's highest standard of competence, a symbol of achievement and assurance of quality. NSPE provides its members, whether already licensed or soon-to-be licensed, with the information and resources they need to earn and maintain the respected PE seal." – NSPE
About the National Society of Professional Engineers
"In 1934, a group of professional engineers met in New York City to establish an organization dedicated to the non-technical concerns of licensed professional engineers. The National Society of Professional Engineers stands today as the only national organization committed to addressing the professional concerns of licensed PEs across all disciplines."
What is a PE? Learn more on the NSPE website.
"A century ago, anyone could work as an engineer without proof of competency. In order to protect the public health, safety, and welfare, the first engineering licensure law was enacted in 1907 in Wyoming"
About Vilbig & Associates
Vilbig & Associates is a federal certified woman-owned small business providing civil engineering and surveying consulting services with primary office located in Dension, Grayson County, Texas. They serve clients locally in Denison, Pottsboro and Sherman, plus throughout the Dallas Fort Worth Metroplex. The firm also hold licenses to provide engineering services in Oklahoma, Louisiana and Colorado. Additionally, team members are located in Plano, Collin County, Texas. The company was founded by David A. Vilbig, P.E., R.P.L.S, in 1983 where he was soon joined by his wife, Barbara J. Vilbig, P.E. Recently, two of their children, Jennifer M. Vilbig, P,E, and Thomas L. Vilbig, P,E, have joined the firm.